Discrimination in Bournemount update: ELT institutions shirk their responsibility
The TEFL Workers' Union's dispute with United World of English in Bournemouth continues. If you don't know about the case, it revolves around allegations that United World mistreated and discriminated against one of our members there as a result of his being disabled. The background for the dispute can be found here.
So far, the local IWW branch has held two successful pickets alongside a "Twitterstorm" targeting United World on social media. We've since had enquiries from local media, the TEFL press, and other Bournemouth ELT workers.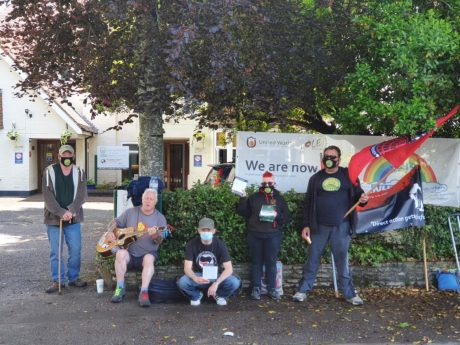 Mike, the worker at the centre of the dispute, can pick up the story from there:
The IWW has organised two pickets and they've been very effective. The first really struck home and brought the school back to the negotiating table. However, the owner simply repeated one of her earlier offers (offering to re-instate me), plus she added a condition. Since we'd already turned down this offer, we have no choice but to take her to tribunal. 
Normally, this would probably be too difficult for me to do on my own,  but with the support of the IWW, I know we can see this through. I hope this all brings about more recognition that mental health issues need to be recognised by everyone in the workplace.
We've filed the paperwork for an employment tribunal and we fully intend to go all the way to a hearing if United World isn't willing to make this right. But the IWW is a fighting union and employment tribunals are always accompanied by ongoing campaigning.
Part of that campaign has been to reach out to the institutions that we're told are there to oversee the industry and ensure language schools comply with the law.
Locally, we emailed Simon Freeman. Mr Freeman is the executive officer of RALSA, which appears to operate as the local British Council affiliate in Bournemouth.
Despite the fact United World is a member of RALSA, the organisation declined to investigate the matter despite our offer of corroborating documentation. More than that, RALSA refused to put out a statement condemning discrimination in even the broadest terms. Mr Freeman only offered the following response:
While I am sorry to read about this situation, it is a legal matter that RALSA is not in a position to get involved in as the courts will decide on what is / was fair and any sanctions would follow from that decision.  I have checked the RALSA Constitution and any involvement in such matters is clearly not within RALSA's remit.
From there, we contacted the national office of English UK, an organisation which makes a great public show of their commitment to Equality, Diversity, and Inclusion.  While English UK at least had the decently to claim they stood against discrimination, they too failed to take any steps to hold one of the their affiliate schools to account:
We cannot comment on individual cases where there is a legal process ongoing.
At English UK, we take equality legislation seriously. All English UK members must adhere to a code of practice (English UK Rules, Section S2, p. 4ff) which includes the following clause:
1.3 The Member will comply with all applicable laws and regulations of the UK and European Union governments.
You can find a copy of the full English UK Member Rules here:
https://www.englishuk.com/uploads/assets/members/rules/English_UK_Rules.pdf
In line with their duty to comply with all applicable UK laws, English UK members must not discriminate against anyone at work because of a protected characteristic and must make reasonable adjustments for disabled workers.
This establishes, yet again, that ELT institutions will refuse to investigate their member schools regardless of the seriousness of the allegation. For English UK, it appears opposition to discrimination is merely something for lofty proclamation, not something which is to be enforced (or even investigated!) internally within the organisation.
Should Mike's case proceed to a judgement at tribunal, we will again raise the matter with English UK to determine if, at that point, they'll take steps to hold their members to account.
We are also pursuing the matter with the British Council directly. However, given disabled workers at British Council have made allegations of discrimination while working there, it will be a welcome surprise if the British Council lives up to its responsibility as the supposed regulator of the UK ELT industry.
But this is why the TEFL Workers' Union exists.  We're not in the least bit surprised that bosses' organisations like English UK or the British Council fail to hold our bosses to account. And because they won't, we will.
If you've been mistreated at work, the union has got your back. Whether it's legal advice, representation in a disciplinary or grievance, or a public campaign, we're here to hold your boss to account.