In recent months, Deliveroo workers have been on strike in Birmingham, Bristol, Cheltenham, London and Nottingham over poor pay and worsening conditions. A number of these strikes have been self organised by the riders, and others have been supported by the IWW Couriers Network and the Independent Workers of Great Britain.
On the 14th February, united under the slogan #NoLoveForDeliveroo couriers in several towns and cities took coordinated action to voice their anger at the low pay and lack of respect that Deliveroo pay to the riders that make the company money.  In a time where the truth often gets lost beneath the message of those with the deepest pockets, below are two stories from the front line in the fight for better conditions in the industry.
---
Bournemouth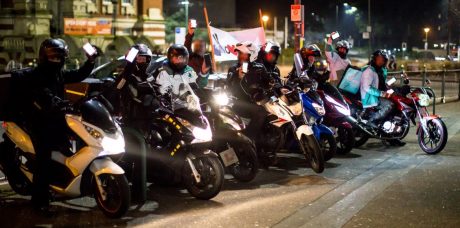 Deliveroo Riders on Strike in Bournemouth
On the Thursday evening, riders in Bournemouth went on strike after rising anger and frustration at low pay and poor conditions.  In a well planned action riders congregated outside the largest and busiest KFC and erected their banner on poles to let passers and those out to enjoy the romantic evening know plainly that the riders had no love for Deliveroo!
The strike in the town – coordinated by riders  with the support of the IWW Couriers Network – was a massive success with one rider who was monitoring the customer delivery app reporting that:
"From 9:15 I couldn't order food if I wanted to! The only places I can order from are ones that provide their own delivery. It worked! I can't get any (deliveroo rider) delivered food at the moment!" Striking Rider on the ability to order food during the strike
Thursday 14th's action was the first industrial action by riders in the town and through this public display the riders were able to spread their message to more of their co-workers (along with the wider public) and will use this action as a springboard to further activity. One rider evoked that rising hunger for change:
"The overall feelings of anger, aggression and disgust towards Deliveroo, rose again last night, to a new found level.

We refuse to let Deliveroo reduce us to poverty stricken workers, who are grateful for crumbs that fall from the company's table.

The support from other striking riders in the UK was uplifting, and show us that the battles being fought by individual towns and cities are now combining, to becoming a united and coordinated War."

Delivery drivers joined the strike in Bournemouth
---
Manchester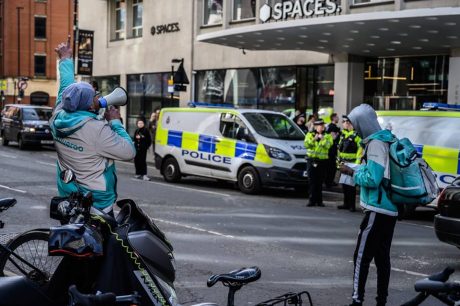 Riders demonstrating in Manchester voice their demands
The below was written by an IWW Organiser who helped Manchester riders organise the strike action. At 10.15, Manchester IWW Members met at our office in Partisan, 20 minutes from the picket. As we were leaving the office, we were stopped by a woman who wanted to know what our signs were. We explained, she smiled and told us her daughter wasn't working today because of the strike, and asked to take a picture to send her and her son who used to work for Deliveroo in Manchester. After, we were stopped by other pedestrians asking us what the signs were. All were supportive. The best reason to be late, to be honest!
At 11 am, we assembled at the top of Redhill St, waiting for riders and supporters to turn up. Turns out Deliveroo strikers have worse punctuality than lefties! I was told by one of the lead riders that we'd also be picketing their St Peter's Square office (a much more central location) – news to me, but good news! The first 45 minutes or so were so awkward – all the strikers were in one group and most our members and supporters were in a separate one. Reminded me of awkward school discos!
After some cajoling by myself, the leading riders and other activists, at 12pm we moved from the top of Redhill Street to picket their Redhill St office, only to be met by a locked iron gate of the refurbished old mill that's now home to Deliveroo and other startups in Manchester. We were informed by security that Deliveroo had sent all their workers home for the day before our strike! Redhill St is Deliveroo's hub, where they ask riders to attend if they have any problems (usually asked to email them etc). Clearly didn't expect 40 riders and their supporters to turn up with problems of low pay, precarious jobs and demanding a collective solution. Still, migrant precarious workers locked out of a mill in Ancoats made for a great photo opportunity – a real throwback to the 1800s! I didn't know that hipsters were into postmodern ironic industrial relations too. After we sent a delegation in to confirm the offices were vacant, we set off en masse for Manchester's other Deliveroo office.
At 1pm we left Redhill Street, marching down Oldham Road and Portland Street to St Peter's Square. It was great feeling to take the streets, marching down the road unopposed with riders so often viewed as part of the background in Manchester streets. The police tried to stop us, but with half of us on bikes and half of us on foot they couldn't decide whether we should be on the road or the pavement! Regardless, we headed to Deliveroo's central Manchester office, now protected by Greater Manchester Police. One of the riders commented "It's not a strike if the police haven't turned up." – the best words you can hear on Valentine's Day?
For the next two hours we chanted and demonstrated, leafleting passers-by and enjoying ourselves. It's one of the few strikes I've been on where I've seen people smiling and enjoying themselves, and it's one of the lasting memories I'll take away from this. At the end one of the riders gave Deliveroo an ultimatum of 2 weeks to respond to our demands, and if they weren't satisfactory, we'd strike again. I gave my first speech to a group of striking workers, telling them that their strike had inspired workers in 5 other cities to take action that day too, to their cheers and applause.
I told them we'd be there by their side for as long as they wanted to take action, and that I had no love for Deliveroo, but all the love in my heart for them. We shook hands and parted ways. As we walked off, we passed one of the Eritrean riders translating what had been discussed to other riders there. To our amusement, we were told by one of our riders that Deliveroo was offering boosts for riders immediately after the strike. Looks like we had an effect. That evening another rider told us restaurants had been telling him Deliveroo had hired security for restaurants to protect them from the strikers – it's a shame they can't spend that money on meeting the demands on their workers.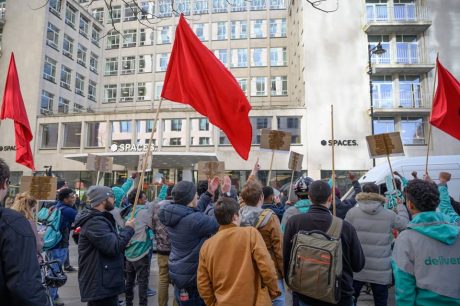 A large number of riders and supporters gather to show their anger towards Deliveroo