The TEFL Workers' Union has conducted a survey about how schools have handled the outbreak of COVID-19, and the results are in!
Before lockdown came into effect 27.5% of those surveyed had to take time off due to having symptoms, or self-isolation. Of those only a pitiful 14% were afforded sick pay. This is utterly disgraceful. Under new regulations introduced because of the pandemic, employers have to pay statutory sick pay from day one, as opposed to after three days which was the legislation pre-COVID yet only 14% are paying any at all.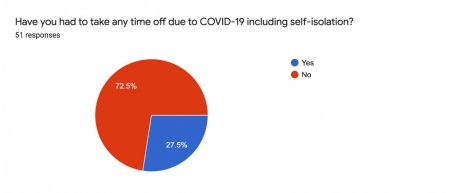 Of the teachers that have been furloughed, we asked if they believed the furlough calculation to be correct. Around 50% believed the calculation to be in line with government guidance. Around 15% didn't know if it were correct or not, indicating a lack of consultation or transparency regarding the manner in which the amount of furlough was calculated. The final third thought that their furlough payment had been incorrectly calculated, with one teacher commenting that they were unable to access furlough due to being on a bogus self-employed contract. 
Approximately 20% of London teachers surveyed were made redundant or sacked. The circumstances around this vary. One teacher stated that the school had simply stopped communicating with them regarding work or furlough. Another received an email giving them one week's notice when the government announced the closure of schools. The worker in question speculates that this was due to their unavailability to cover a class the previous week. In view of the fact that the government set out a scheme in order to avoid redundancies, it highlights a high level of incompetence, laziness and carelessness on the part of school owners to refuse to apply for the scheme on behalf of their employees.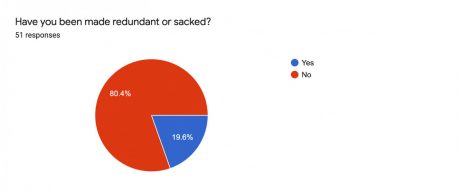 During any contract change, good communication is paramount to ensuring a smooth transition, which causes as little stress to employees as possible. Unfortunately 53% of respondents felt that communication has been poor during the changing situation.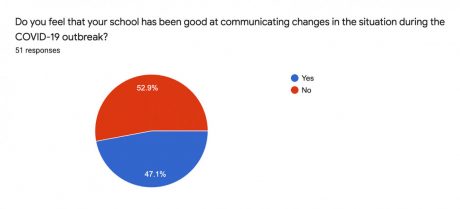 Perhaps the most unsettling finding of this research is that 37% felt that their health and safety has been compromised at some point during the outbreak of COVID-19. With many of you citing crowded meetings, lack of advice informing students to stay home if they felt sick, inadequate provision of hand washing facilities and poor mental health as a result of bad communication. 
It was not only workers who were potentially put in potential danger. A group of workers from one prominent language school relayed a story about a senior manager who came into classrooms the week before the lockdown was implemented to tell students that this was a great time to go sightseeing as the virus meant that London was largely free of tourists.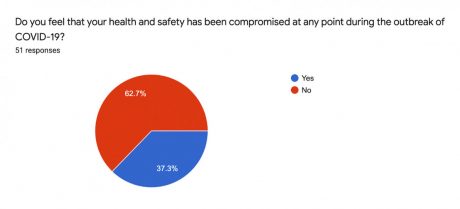 COVID has exacerbated many of the problems already rife within the industry. Increased time off due to illness and regulations around furlough have highlighted the chronic need for contractual sick pay from day one, as well as the bogus nature of the self-employment contracts that still feature heavily in the industry. Poor management, and lack of communication must be rectified as we move into the next phase of the pandemic as many more schools will face redundancies. Surely, the time is now to drastically overhaul the conditions in the industry.