[Photo Source: CDC Global – License: CC BY 2.0]
While matters of health and safety have always been prominent in factories or hospitals, the coronavirus has meant those of us who work in classrooms or offices are having to consider health and safety concerns in ways that perhaps we've never had to before.
Employers are driven by budgets and profits – their eye is always on the bottom line. So it's important that, as workers, we educate ourselves on the protections that we have. We need to hold employers to account to make sure that risks are managed properly. 
PPE, for example, should only be a last resort for controlling risk at work. Employers are expected to act within the 'hierarchy of controls' and if they're not doing that, it's on us to make sure they do.
The key pieces of legislation are the Management of Health and Safety at Work Regulations, 1999 and the Health and Safety at Work Act of 1974. 
In these regulations, employers are tasked with making specific provisions for the safety of their employees. In particular, a 'suitable and sufficient' Risk Assessment must be carried out by a 'competent person' 
Once the Risk Assessment is made and hazards identified, the employer must implement a 'hierarchy of controls' to prevent employee exposure to harm. 
This 'hierarchy of controls' is a series of steps employers must take in order to meet their legal obligations: elimination, substitution, engineering controls, administrative controls and PPE in descending order.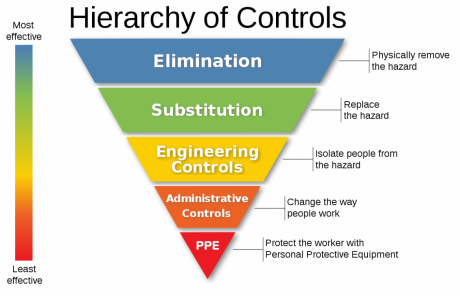 Regulation 4 of the 1999 regulations gives a template for employers to follow:
Avoid risks altogether 

Evaluate any risks that cannot be avoided 

Combat risks at source

Adapt the work to the individual, particularly with regard to workplace design

Adapt to technical progress

Replace dangerous work with safe or safer alternatives

Develop a coherent, overall prevention policy covering technology, work organisation, work conditions, social relationships and the working environment

Prioritise collective over individual protective measures

Give workers appropriate instructions
Only after the hierarchy of controls has been met can the employer consider the use of PPE. All of the personal equipment should be free, as should instruction in new health and safety procedures. 
This is what employers should do, these are their legal requirements, but many will evade their responsibilities either through lack of competence in health and safety or through reluctance to meet the expense. 
It's important that you and your workmates act together to ensure your employer is putting your safety first. Ensure your employer has undertaken a full risk assessment. Ensure it was done by a competent, trained, and qualified person. Ensure everyone has access to the risk assessment.
Then, scrutinise it in detail. 
Have they attempted to mitigate risk through engineering by altering the layout of the workplace? Do you feel it's sufficient?
Administratively, has your boss adequately reduced the number of employees and customers on the premises? Remember that you can challenge management's assessment of safe numbers in a given space.
Or has your employer just handed out PPE and said 'job done'? If so, they are in violation of the law and can be challenged.
If you think there are health and safety concerns in your workplace, you have a number of options. You can contact ACAS for further legal information or the Health and Safety Executive to make a complaint.
Alternatively, can take out a grievance, invoking a formal process to raise your concerns over health and safety in the workplace. Most employers only have procedures for individual grievances, but collective grievances are always more powerful. As always, there is strength in numbers.
Your first step should always be to speak to your union representative. If you are not currently a member of a union, join the IWW here. You can then speak to a union rep who will be able to advise you and your workmates on next steps.