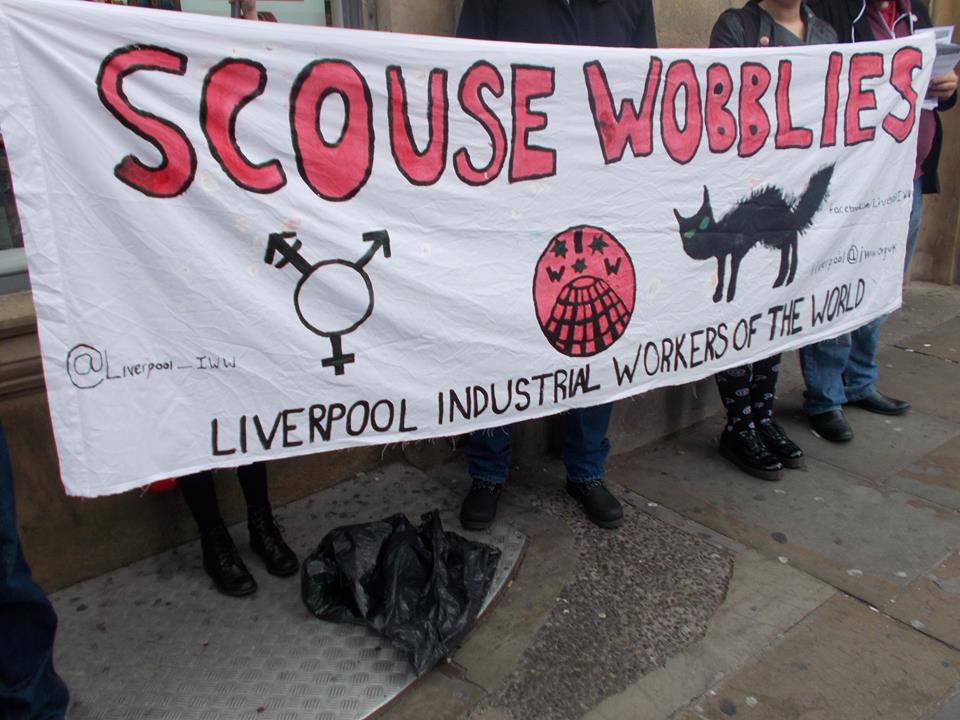 Liverpool IWW held the first of what will be fortnightly 'walks of rage' against workfare yesterday afternoon. We targeted three employers who refuse to even pay minimum wage to their staff, instead insisting that taxpayers fund their profits (photo album here).
In practice, this meant standing outside the shop with our banner and placards, leafleting everyone who went in, and having conversations about what can be done with everyone about the government's horrific scheme. But perhaps more importantly, we made sure we let the workers inside know what we were doing, and that we are on their side in the battle against the bosses. Our aim is to recruit staff – not alienate them.
We started off at the small Tesco on Bold Street, where very few customers decided to go in whilst we were there, and many of those who did also took our leaflets. We had relatively few leaflets for the small The Works stationers down the road, and these were soon gone. So we moved on to Poundland on Williamson Square, which has a huge number of people walking past. Around a hundred leaflets exposing Poundland were given out in about half an hour.
As Liverpool IWW, we take the position that not only is workfare really bad news for the workers who are put on it, it also has a hugely negative impact on the working class as a whole – pushing up unemployment and putting downward pressure on wages. So paid workers on the job, workfare employees on the job, and working class customers can and must unite to fight for their shared interests. And as the recent national week of action proved, we can get wins on workfare!
We will be building our campaign with another walk of rage at 11am on Saturday, 8th November, meeting at the bombed-out church (St Luke's), Berry Street, Liverpool. The Facebook event page is here.
We're making One Big Union to take on all Merseyside bosses and the dole! Join us here, Facebook us here, and tweet us here!