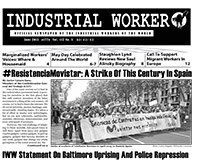 The June 2015 issue of the Industrial Worker is here!
You can download a PDF from the international IWW website here.
Headlines:
#ResistenciaMovistar: A Strike Of This Century In Spain
IWW Statement On Baltimore Uprising And Police Repression
Amtrak Wreck Could Have Been Prevented
Features:
May Day Celebrated Around The World
Staughton Lynd Reviews New Saul Alinsky Biography
Call To Support Migrant Workers In Europe
Happy Wob-read!