Staff at EF language school in England and Ireland are facing mass redundancies.
The company is only offering the statutory minimum, meaning the large percentage of staff with less than two years of service will get nothing.
EF is a huge company that has millions in the bank and pays out millions to shareholders.  The owner of EF, Bertil Hult, has a net worth of $6 billion.
In their most recent financial filing, EF had this to say to their shareholders:
"With respect to the business in the UK, it is still the opinion of the board that cost will be recovered and there is low risk."
So while staff are told that the crisis is an existential risk that justifies sacking half the staff, EF's message to their shareholders is decidedly different: Don't worry, this is 'low risk', 'cost will be recovered'.
The TEFL Workers' Union isn't about to let this hypocrisy go unchecked.  
We're asking our members and supporters to take a moment on Monday August 3rd to stand alongside the EF staff.
Say no to EF's corporate greed! Take a stand against inequality. Tell EF that you won't stand for disaster capitalism. 
Tell EF: The statutory minimum isn't good enough!
What to do:
Using Instagram, please tag @EF in the image below: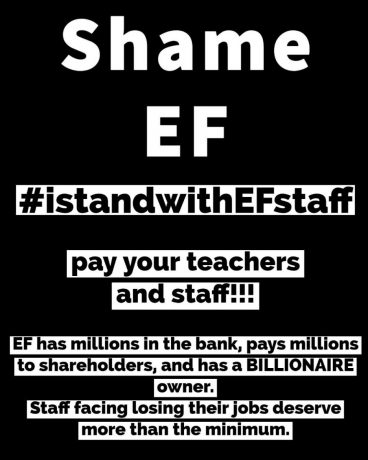 If you're new to Instagram, we've provided detailed instructions and a list of other #EF instagram accounts below:
Step 1 – Download the post or screenshot. This will be saved in your phone gallery.
Open Instagram and press the +.
Step 2 – Select the post
Step 3 – Select the 'expand' icon to avoid cropping
Step 4 – Press 'Next'
Step 5 – Press 'Tag People'
Step 6 – In order to tag, press anywhere on the photo/post
Step 7 – Write down the account you want to tag
Step 8 – Repeat the step 6 and 7 for each accounts you would like to tag
@ef.london @ef.oxford @ef @efambassador @efschweiz @efeducationfirst @efdeutchland @efdublin @efkorea @eflosangeles @efalgeria @efcambidge @efmexico @ef_bournemouth  @efaustria @efitaly @eflanguagecenters @efbirghton @efstories @efnewyork  @efmunich  @efturkie @efeastbourne @efeducationfirst @educationfirstuk @ef_france @efchicago @efnederland @efnorge @efalgeria @efmalta
Step 9 – Copy and paste the following message 
EF: Pay your teachers! Please share the post! #istandwithEFstaff 
#EFLondon #EFmoments #EFstories #efoxford #uktravel  #efmoment #weareef #efmalta #efambassador #efdublin #efkorea #efitaly #effrance #efcambridge #tefl #teflteachers #teflondon #educationfirst #efaustria #learnenglish
Step 10 – Share. If you want you can also share it on facebook and other social platforms linked with your instagram account. 
Step 11 – Share it on your history and invite others to do the same please! 
Please note: The TEFL Workers' Union has not requested EF staff members participate in this action.  The union is responsible for organising and promoting the action.