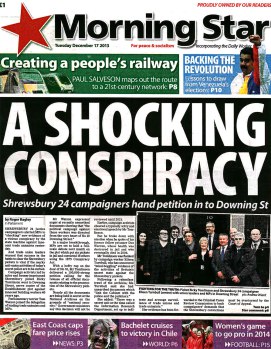 Liverpool IWW wholeheartedly welcomes the statement made this week by Clydeside wobblies, and supports their call for a boycott of the Morning Star. We stand in full solidarity with FW Rory MacKinnon, who was suspended (and effectively forced to resign) by the paper, for investigating the Rail, Maritime and Transport (RMT) union bureaucracy's suppression of domestic violence allegations against their assistant general secretary, Steve Hedley.
We agree with FW MacKinnon that:
"[..] the Rail, Maritime and Transport Union's members do have a right to know about their leaders' decision not to hold a formal investigation into reports of violence against a female member, and I think the Morning Star's readers and supporters also have a right to know that the paper's senior staff have an explicit policy of suppressing such allegations."
We are also in full agreement with the recent call by our union's Gender Equity Committee, for:
"EVERY branch of the Industrial Workers of the World [to] make the active resistance of patriarchy, sexual violence and other forms of oppression a priority for their branch and the members within. We encourage our fellow workers to diligently develop and effectively implement official practices and policies that address incidents of injury where terms of immediate relief, punitive action, and transformative justice prioritize the needs of the survivor(s)."
While survivors on the radical and trade union left are frequently told that they are 'dividing the class' when they call out men for their abuses, we maintain that in reality, patriarchy is one of many tools which serves to divide the working class. It must be actively resisted wherever it manifests, so that we can progress towards creating a mass working class movement, inclusive of all genders. We therefore see the disciplining of FW MacKinnon as completely against the interests of the working class, and will play our part in supporting and publicising this boycott.