It is with great sadness that we learn of the passing of Fellow Worker Anna Campbell, killed by Turkish forces while fighting alongside Women's Protection Units (YPJ) in the defence of Afrin.
Anna was a dedicated feminist, social justice and environmental campaigner known to members for her activism around the student occupation movement, ecological and community outreach projects in Bristol and Sheffield. She was a key organiser in the IWW's IWOC group, also being involved with the Empty Cages Collective, Smash IPP and Bristol ABC.
Anna travelled to Syria last May to participate in the grassroots feminist and socialist revolution that continues to grow in Rojava (the autonomous Kurdish region of northern Syria). Anna spent her first months in the country fighting in Deir ez-Zor, Isis's last major stronghold. However when Turkey and Turkish backed forces launched an assault on the city of Afrin in late January, Anna insisted that she be redeployed there. She gave her commanders an ultimatum: "Either I will go home and abandon the life as a revolutionary or you send me to Afrin. But I would never leave the revolution, so I will go to Afrin".
A spokesperson from the YPJ said of Anna (who took the nom de guerre 'Hêlîn Qereçox' in Rojava): "comrade Helîn will always be a symbol as a pioneering internationalist woman. We will live up to her hope and beliefs. We will forever pursue her aim to struggle for women, for oppressed communities."
Anna's friends have started a crowdfunding campaign here to raise funds in Anna's memory, the funds of which will be used to support the victims of the Turkish invasion of Northern Syria.  The funds raised will be distributed by Anna's family, who are also calling for a ceasefire in Afrin to allow the bodies of all who have fallen to Turkish aggression – including Anna – to be returned to their families.
Our thoughts and condolences are with Anna's family, friends and comrades at this time.
Rest in Power Fellow Worker.
Below are a number of actions and tributes to Anna from members of the IWW.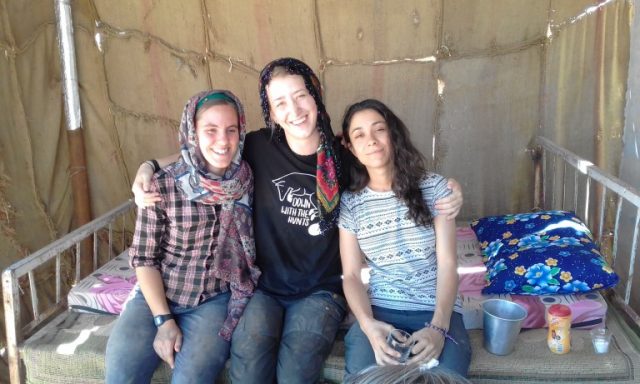 A member of the IWW has completed a remastering of the audio from a video by the Internationalist Commune of Rojava entitled "From Rojava to Hamburg: Fight G20" in which Anna reads a statement from the commune that draws connections between the revolution in Rojava and liberatory struggles around the world – both historical and present. The original video can be found here.
We are very happy about the fires of resistance that you want to light in the streets and in the hearts of those that want to shatter their chains. The lights of these fires shines all the way to the free cantons.
Download the audio here: Mp3 (right click and Save As)
Thanks to the Internet Archive.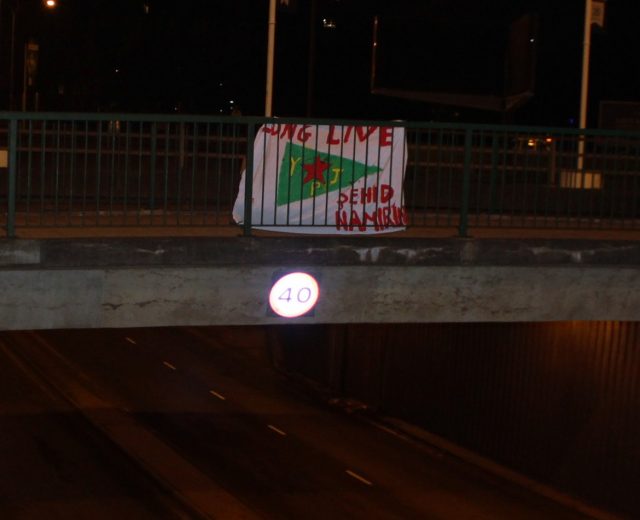 In Birmingham, on the night of the 21st March (Kurdish New Year) tributes were made by the Kurdish community and members of the IWW for Anna and others killed in the conflict. There was also a banner drop shared on social media that reads "Long live the YPJ, Sehid Namirin" which roughly translates as "Matyrs are Immortal".
We won't forget you Anna.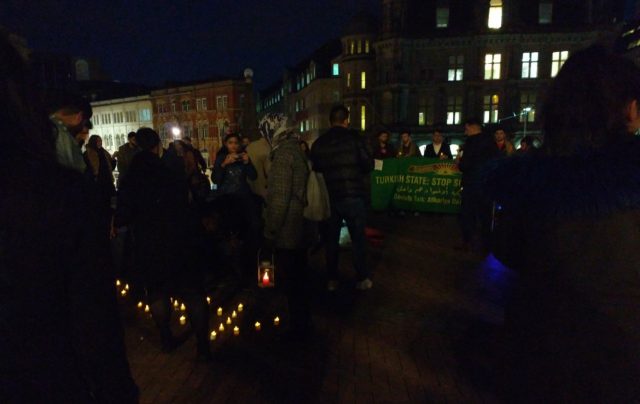 In Bristol IWW members took part in a rally organised by Bristol Antifascists, attended by friends and comrades of Anna from various local anarchist and radical groups. The day started in King's Square with speeches from people that knew her well and mentioned her work in Bristol which included hunt sabbing and helping to run the Kebele Community Co-Op and Hydra Books as a volunteer.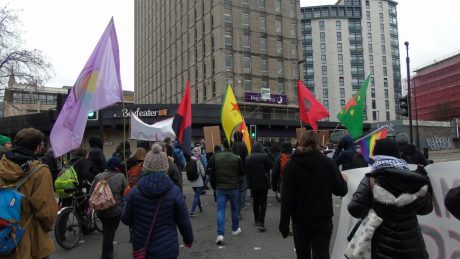 A number of speeches were made and memories of Anna were shared. Often it feels like those left behind after a sudden death struggle to know how to go on, in Anna's case it was very obvious what we had to do: namely continue fighting for the things she did. The rally turned into an impromptu march through town where we were joined by handfuls of Bristolians similarly outraged by the recent actions of the Turkish state.