Join the London IWW in supporting the heroic efforts of London's cinema workers in fighting for a real living wage.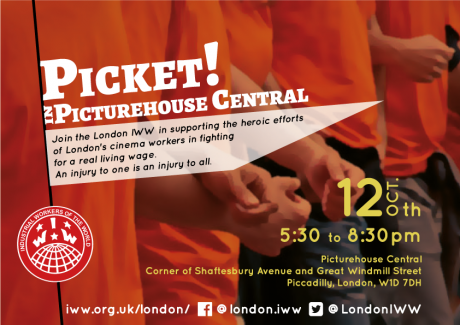 Since starting this struggle over a year ago, workers have struck time and time again and, in response, Picturehouse management has fired four union reps and is now threatening to sack all striking workers. But the workers will not deterred and there will be a series of strikes, protests, and pickets during the upcoming London Film Festival.
To help with the effort, the London IWW will be leading a picket during the festival:
When: Thursday October 12th, from 5:30 to 8:30
Where: Picturehouse Central (Corner of Shaftesbury Avenue and Great Windmill Street, Piccadilly, London W1D 7DH)
What to bring:  flags, banners, noisemakers, all your friends. 
Further information about other actions during the London Film Festival can be found here:
General information about the dispute can be found here: