These stickers originated in a planning session of the IWW West Midlands branch and were designed by FW Sean Farmelo. The four stickers aim to encapsulate some key tenets of IWW practices and ideas in a concise and eye catching manner – from self organisation, to support for all workers regardless of borders and inciting class struggle against the bosses.
The woodcut designs in the background come from the collection 25 Images of a Man's Passion, the first wordless novel by Flemish artist Frans Masereel (1889–1972), first published in 1918 under the French title 25 images de la passion d'un homme. The silent story is about a young working-class man who leads a revolt against his employer.
The first of dozens of such works by Masereel, the book is considered to be the first wordless novel, a genre that saw its greatest popularity in Europe in the 1920s and 1930s. Masereel followed the book in 1919 with his best-known work, Passionate Journey: https://en.wikipedia.org/wiki/Images_of_a_Man's_Passion
The first batch of 4,000 stickers were printed by the IWW West Midlands branch, but given their popularity IWW Merch have printed a further 10k of the stickers available for branches and Fellow Workers to buy across the region.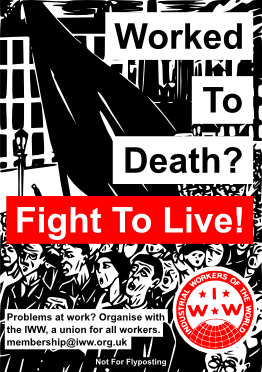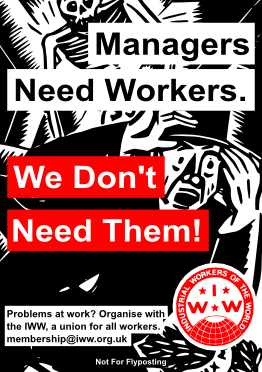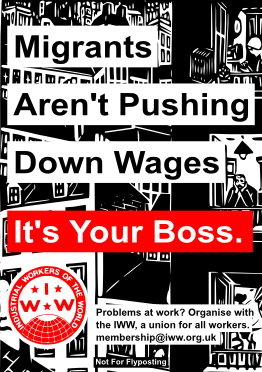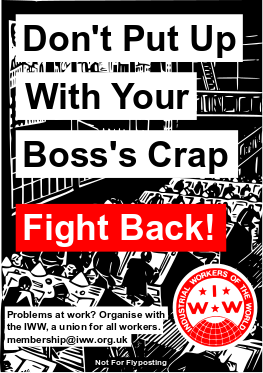 Download the stickers in a variety of formats:
Also available on the Internet Archive:
https://archive.org/details/iww-wise-ra-stickers

This work is licensed under a Creative Commons Attribution-NonCommercial-ShareAlike 4.0 International License.