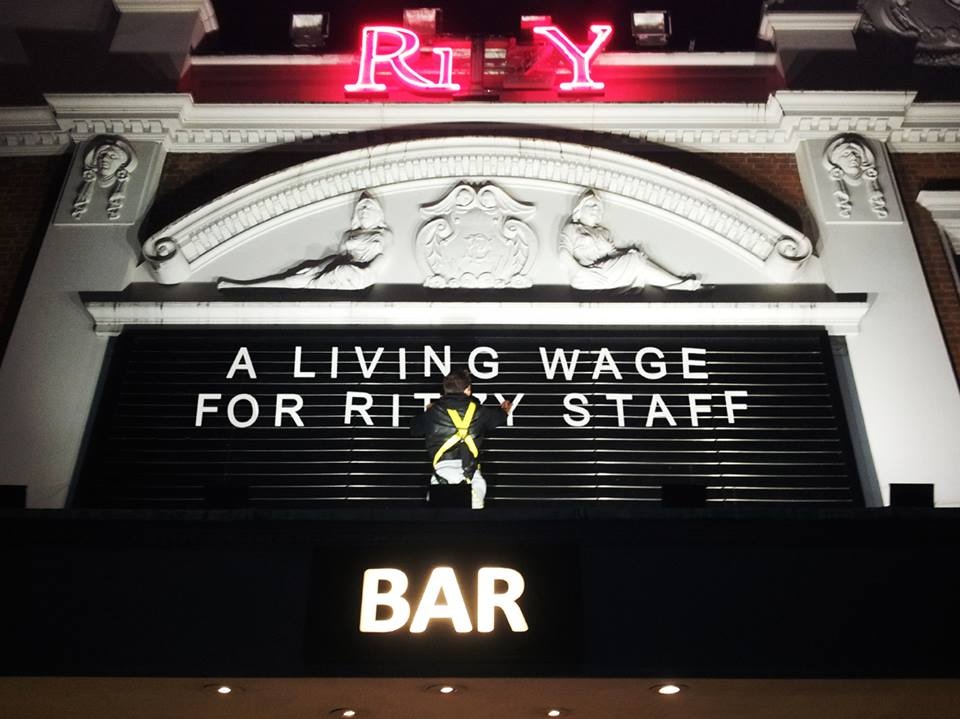 This International Workers' Day, Liverpool IWW and Liverpool Class Action are demanding:
– the reinstatement of the sacked FACT staff
– a living wage for the Ritzy cinema staff
– a living wage for all
Liverpool IWW and friends will be picketing FACT in the city centre this Thursday, 1st May, from 5.30 pm. We're primarily doing this in solidarity with workers at the Ritzy cinema in Brixton, South London, who are scheduled to be holding a third day of strike action for the London Living Wage of £8.80 per hour. Through the 'Picturehouse' brand, The Ritzy shares a parent company with the FACT cinemas in Cineworld. Cineworld made a profit of £30 million last year – all of which was made possible by their workforce – and we're sure they can afford to ensure their staff a minimum decent standard of living.
The Ritzy staff are not calling for a boycott of the cinema they run, and so we are not calling for a boycott of the FACT cinemas. Instead, we will be echoing the workers' call for:
messages of support to their Facebook group (facebook.com/RitzyLivingWage) and Twitter @RitzyLivingWageSend
messages to Cineworld and Picturehouse Cinemas telling them that you support the London Living Wage for their workers:


lyn.g

[at]

picturehouses [dot] co [dot] uk

,

alastair.o

[at]

picturehouses [dot] co [dot] uk

Email

corporate

[at]

cineworld [dot] co [dot] uk

and Tweet @picturehouses and @cineworld using the hashtag #WhereIsMooky in reference to the company's elusive boss, Mooky Greidinger.
As Liverpool working class activists, we do have an issue with FACT's recent decision to make eleven front of house staff redundant and replace them with unpaid volunteers. Indeed, only a small minority of the FACT's staff are now paid, and the ones making the most are the ones taking the decisions over the charity's direction. However, like with the Ritzy, there's no call for a boycott from FACT staff. So for now please do the following:
message executive director Iona Horsburgh (

iona.horsburgh

[at]

fact [dot] co [dot] uk

,

@IonaHorsburgh

)
message visitor services manager Joan Burnett (

joan.burnett

[at]

fact [dot] co [dot] uk

)
message head of marketing and communications Jen Chapman (

jen.chapman

[at]

fact [dot] co [dot] uk

, @FACT_Liverpool)
let them know you disagree with replacing paid workers with volunteer workers.
The Industrial Workers of the World is a union ran by and for its workers. Join us here, or email liverpool [at] iww [dot] org [dot] uk for more information.