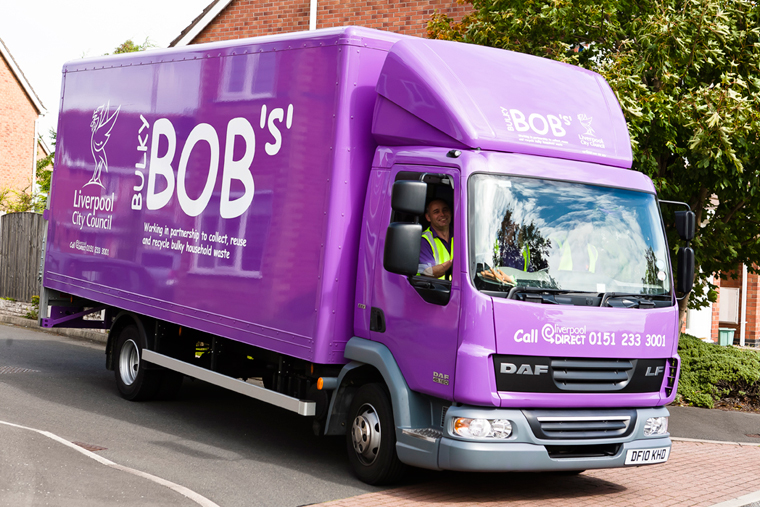 Liverpool Industrial Workers of the World union (IWW) have called a demonstration outside Bulky Bob's on London Road, for a week on Saturday. This comes after a tip-off from an anonymous insider at the household item recycling company, who told Liverpool IWW that:
"[…] there is one paid manager in the store (who used to work for the company that is now LearnDirect which is one of the major 'providers') and the rest of the staff are on workfare or 'volunteers'. Likewise, the connected company FRC (Furniture Resource Centre) has a warehouse on Brunswick Dock which runs on workfare, as do its vans which collect and deliver to Bulky Bobs."
There are many workfare exploiters in the city, and our union has already targeted some of them, with more to follow. But what makes the case of Bulky Bob's so explosive is the fact that the 'social enterprise' operates under a Liverpool council contract, with the city's logo emblazoned on its vans.
Bulky Bob's has held the council contract since 2000, and has made hundreds of thousands of collections from Liverpool homes since then. Many of the items have been resold for the use of low income individuals and families. We have no problem with this.
However, it is scandalous that Bulky Bob's contribute to the growth of Liverpool poverty, by exploiting unpaid labour. As with all workfare placements, those at Bulky Bob's prevent those being compelled to work there from looking from proper, paid work. At the same time, they encourage other businesses to take on unpaid labour, forcing down wages for all working class people.
Liverpool Mayor Joe Anderson has put himself forward as an opponent of workfare. When Labour MPs abstained in a House of Commons vote on the issue early last year, Anderson tweeted that "Workfare abstentions gives me the same feelings of shame as I had in 2007 over abolition of 10p tax rate every Labour MP should've voted no". A few days later, he echoed journalist Owen Jones' description of workfare as being a "brutal, unforgivable attack on vulnerable people".
Bulky Bob's' contract expires next year. Liverpool IWW want to achieve a situation where no-one on a council contract is forced into the job by a DWP threat of destitution if they refuse to work for free. So we are demanding that Joe Anderson, plus Cabinet Member for Employment & Skills Nick Small, use their influence to ensure that Bulky Bob's immediately scrap their participation in workfare. If the company refuse to do so, we demand that Liverpool council commit to scrapping their partnership with Bulky Bob's in 2015.