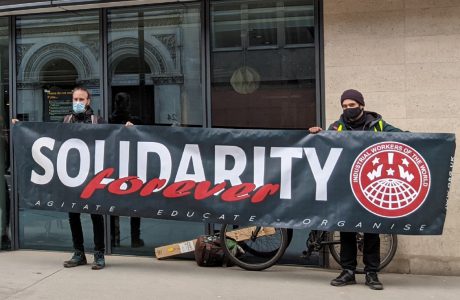 Dear Brothers and Sisters,
We, as members of the TEFL (Teaching English as a Foreign Language) Workers' Union branch of the Industrial Workers of the World, UK, would like to extend this message of solidarity to the workers at Amazon in Bessemer, Alabama, fighting for the right to organise.
Like Amazon, our industry is one often run by millionaire and billionaire owners at one end, and low paid workers on precarious contracts at the other. Historically, very few language schools have been organised and, as such, TEFL bosses have frequently gotten away with unfair labour practices and even flouting employment law entirely: sometimes out of callousness, sometimes because they're so used to not being challenged that they don't even know what the law is. Sometimes, it's a combination of both.
That's where our union comes in: by uniting, we've been able to win more than we would've gotten on our own. We're starting to hold the industry to some basic standards. As we move forward, we're going to fight for better conditions and more control over the work we do.
Your struggle has been an inspiration, not only to our members as we press ahead with our own struggles, but to workers across the world. By standing up and standing together, you've got one of the most powerful corporations in the world running scared. Your actions are making history right in front of our eyes. In that sense, we hope to follow your lead.
If we can be of help to your campaign in any way, please do not hesitate to reach out. You have our continued solidarity in this and all your future organising campaigns.
For a future that workers control,
The IWW TEFL Workers' Union