Organised by IWW Northumbria and Liverpool Group, Introduction to Workplace Organising training took place on Zoom over two weekends in October and November. Well attended, it offered participants an excellent opportunity to meet Fellow Workers (FWs), albeit virtually, and to explore effective strategies for organising colleagues in their workplaces.
We started with the basics: why unions in general, and specifically what makes the IWW unlike other unions; how since our formation in 1905 we've aimed to be the One Big Union for all workers organised across our industries, for all workplaces regardless of how small. IWW has consistently concentrated on organising precarious workers into an independent fighting union run by its members, with no professional bureaucracy, guided by our belief that the working class and the employing class have nothing in common.
Participants paired off and explored the specifics of their backgrounds and experiences of organising fellow workers. We shared thoughts on what makes for good and bad organisers: the best organisers are excellent listeners with a good rapport with their colleagues, they're knowledgable and approachable but also realistic about what might be achieved and mindful of the possible repercussions of workplace organising. We agreed that in order to gain the trust and respect necessary for effective organisation, we never lie to our colleagues or give them grounds for false optimism. Above all, we hope to empower FWs to organise themselves, in effect to make ourselves redundant once confidence has risen and tasks have been delegated to encourage maximum participation.
One element of the first day's session that I found particularly rewarding was the concept of Mapping the Workplace. Here FWs were encouraged to understand the ways in which their colleagues relate to each other, to accurately assess their attitudes to unionisation including who are existing members, who are sympathetic to becoming members, who are hostile and those that are anti-union; obviously including any managers. This mapping would also highlight relationships between colleagues, what connects them and how they might influence each other. The creation of up-to-date maps requires developing a dynamic and responsive understanding of our workplaces. Appealing to my instinct for subversion, this process felt almost like espionage!
It also highlighted the necessity for confidentiality and protection. When compiling a detailed picture of our workplaces, we're gathering sensitive information that could seriously endanger our co-workers and ourselves as organisers if it fell into the wrong hands. Good organisers treat all such information with respect; it is essential to store any records securely, never on work property or devices.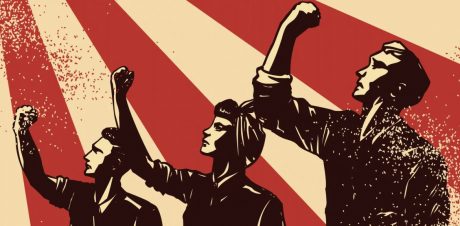 A two week gap between sessions allowed us time for some homework: to produce maps of either our existing or past workplaces and to approach our fellow workers for one-on-one discussions. We learned how this is often the most effective method of organisation, so the second day's session concentrated on how best we can engage with colleagues in this way; how to start conversations, talking about our families and friends, life outside work, our interests and our experiences, always remembering the 80/20 rule: we listen at least eighty percent and talk for at most twenty percent of the time we get to spend with FWs.
As we build connections and confidence, our union's guiding principles can come to the fore: to agitate, educate and organise. We need to discover what co-workers' grievances are, what makes them angry, to share common experiences and to collectivise grievances; that it's like that for all of us. From there we can explore how things might improve, suggest solutions based on collective action, how improvements can be won when workers stick together. This led to us discussing how vital it is to organise and build a team, how sharing the workload gives us all mutual support and a sense of collective ownership and allows everyone's skills to be developed.
Everything we'd learned was then brought together by role-playing how best to collectively bargain in an imagined workplace; I found this exercise especially valuable. My natural tendency to be a hothead proved counterproductive; I was grateful for the opportunity to make the mistake of escalating my rhetoric and threats of action before it was really necessary, teaching me a powerful lesson: it's important to remember to leave yourself somewhere to go, to be conciliatory until escalation becomes a necessity. One of the words we returned to often throughout the training was inoculation: to prepare FWs for any backlash from the employer, but also to prepare ourselves for setbacks and being aware we might not always get it right. The role-play gave me the opportunity to do the wrong thing in front of supportive comrades, so that in future I might get it right when it really matters.
I'd encourage fellow workers to take advantage of all training opportunities; our union has experienced organisers eager to spread their knowledge to enable us all to build a fighting union dedicated to winning for our whole class. The IWW can put you in touch with local organisers and arrange workshops: to find out more contact your Regional Secretary: secretary [at] iww [dot] org [dot] uk and Training Secretary: training [at] iww [dot] org [dot] uk.
Solidarity forever!
By Ade X, Liverpool IWW.
—
Want to learn more? Read our four-part primer on workplace organising here.
Join the IWW and reach out to the organising department and your local branch for support!