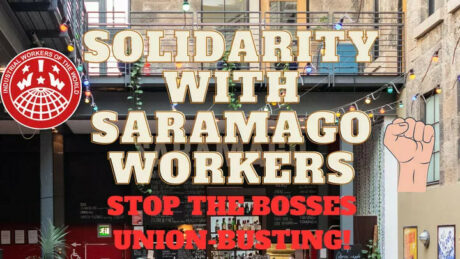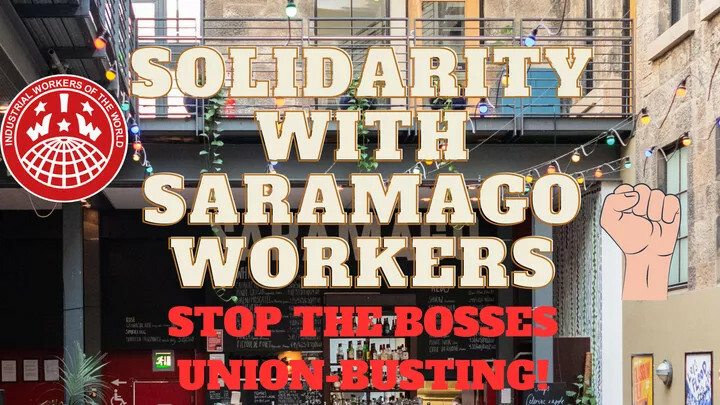 The Saramago Bar, located inside the Centre for Contemporary Arts (CCA), in Glasgow has summarily dismissed three workers in the middle of their shifts in a blatant union-busting effort.
The fired workers are members of the union Industrial Workers of the World (IWW) and were organising to increase the number of staff rota'd on in the kitchen and front of house to stop themselves being over-worked. A simple request for a business as popular as Saramago and one that has enjoyed popular public support including from over 100 people who have signed a petition in solidarity with the workers demands, staff in the CCA, and other businesses in the area.
Fellow workers at Saramago and the IWW are concerned that these unjust, cruel, and downright cynical rafts of firings are just the beginning. Both staff and the union are bracing for more firings and mobilising to provide support to those who have already been summarily dismissed.
The IWW is aware that Saramago workers are not alone in their fight against stressful workloads and understaffing, we therefore cannot but see this attack as one aimed at workers within the hospitality industry as a whole. With these firings, Saramago owners and bosses Christopher Paul Smith and Claire Butler, seek to undo the gains made by workers and roll back the victories previously secured by the union including extended taxi cover to weekdays, increasing wages, and resisting the bosses targeting of individuals in the workplace. The message these bosses are sending is clear – accept precarity or starve.
We will not let Saramago hide behind its historic association with a liberal, left-wing crowd or its location in an arts venue that only a week ago screened films about the importance of trade-unionism. We call on all union members and workers in hospitality to show solidarity with the fired workers by joining us on the support pickets which will soon be organised and in advancing and amplifying the following demands:
We call upon Saramago and its bosses and creditors to reinstate the IWW members that were unjustly fired and pay their lost wages.
We call upon the CCA to reconsider its relationship with Saramago and refuse to tolerate a union-busting business which has fired organisers for daring to stand up for themselves and other workers in hospitality.
We call upon all customers of Saramago and event planers at the CCA to reconsider patronising or hosting their events in these venues
In addition to the above, we ask you to support fellow workers by sending them messages of support or financially contributing to their GoFundMe at https://www.gofundme.com/f/hardship-fund-for-fired-saramago-workers
Edit: On Tuesday 21st March there will be a demonstration to demand that the fired workers be reinstated. Join us from 12pm – 2pm and then again from 5:30 – 8:00pm!
IWW Clydeside Branch on behalf of the IWW workers at Saramago
Twitter @clydesideiww