On Thursday 19th October members of the IWW Cymru Branch held an event for students in Cardiff to arm them with knowledge of their rights in the workplace and to discuss the power of organising!
Despite the wind and the rain a few intrepid souls braved the elements to come along to the event where some energetic discussion was had!  The evening started with an introduction to the IWW and our organising philosophy, along with explaining how organising in the workplace through a Union can benefit each and every one of us.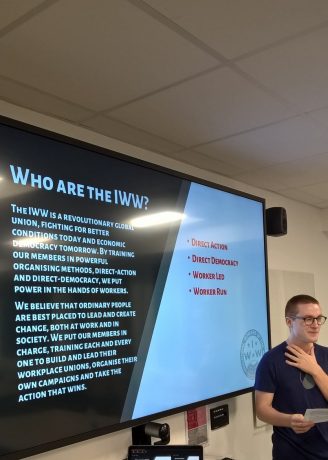 To follow, there was a group discussion, where the problems people were currently experiencing in work (or in trying to find work) were shared in a safe, empathetic and understanding environment.
Next, we moved onto a run-down of some of the basic rights and protections that we all currently enjoy in the workplace and how many of these are only in place due to efforts of worker led organisation!
A 101 into Direct Action methods and tactics was next up, where some real-world examples of how IWW members had taken things into their own hands and how, through diverse methods such as slowdowns, monkey-wrenching and good work striking, had won them the goods!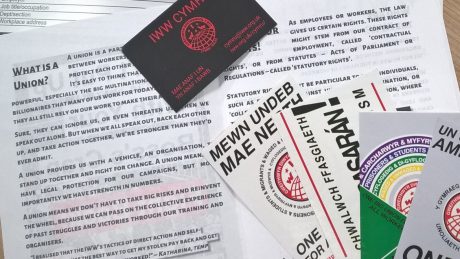 To round off a really great evening there was a more relaxed discussion on some of the wider campaigns that the IWW are currently involved in and how capitalism impacts on peoples lives more generally outside of the workplace.
It was all tolled a great night and one the Cymru Branch hopes to repeat soon to help arm workers all over Wales with the skills, knowledge and confidence to take destiny into their own hands through the power of collective solidarity!
For the One Big Union!
Are you an organiser or member of an activist or community group? Do you think this kind of event could benefit your members? Get in touch with us at cymru.organiser [at] iww [dot] org [dot] uk and we can discuss your requirements.