International Workers Memorial Day – with the official trade union movement online and some Council buildings lit up, it was left to a collective of dissidents to show how it coud be done safely & with imagination on 28th April.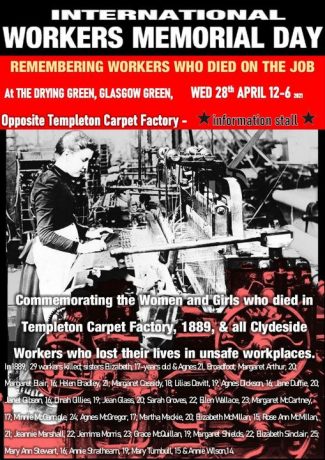 The Glasgow Keelie collective designed and printed aprons for every one of the women killed in the Templeton's carpet factory of 1.11.1889. They added other aprons for disasters in the Glasgow area such as the sinking of the Antares fishing vessel, The Stockline factory, Auchengeich pit & Grafton's a retail store. In addition Graham Meldrum was remembered, a local anarchist killed on 12.7.05, by the negligence of a company where he was getting goods vehicle instruction.
The display opposite the Templetons Business Centre involved members of Clydeside IWW and received the support of passes by including the Clydeside Asbestos Campaign.
https://www.facebook.com/ClydesideRevolts
http://glasgowkeelie.org for archive of monthly digests