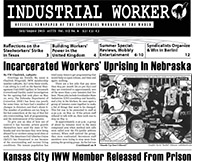 Headlines:
Incarcerated Workers' Uprising In Nebraska
Kansas City IWW Member Released From Prison
Syndicalists Organize And Win In Berlin!
Features:
Summer Special: Reviews, Wobbly Entertainment
New Austerity Measures To "Liberate" French Workers From Regulations
Building Workers' Power in the United Kingdom
To download the bulletin in PDF, click here.
Apologies for the delay in posting this, enjoy the read!