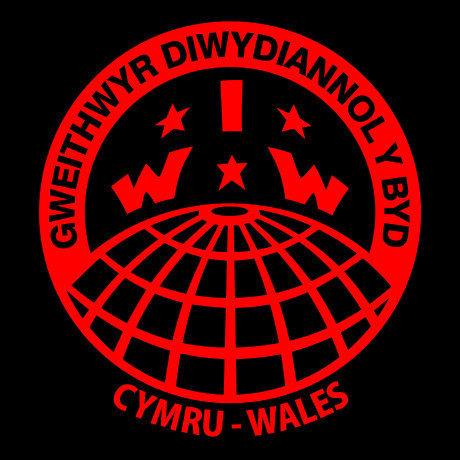 Gallwch ddarllen y datganiad hwn mewn Cymraeg fan hyn.
IWW Cymru Branch stands in solidarity with the recent protests in Cardiff, Swansea and beyond against police brutality, racism and patriarchal violence.
Protests were first held in January for Mohamud Hassan, a young man who died from severe injuries following his release from the custody of South Wales Police. A month later, Mouayed Bashir died while being detained by Gwent Police at his home in Newport; further protests were held for Mouayed and Mohamud and Black lives everywhere. The protests have also demanded freedom for Siyanda Mngaza, a Black woman from Wales who was imprisoned last year after defending herself from a racist attack.
Following the death of Sarah Everard, and the subsequent charging of a Metropolitan Police Officer suspected of her kidnap and murder, vigils have been held across Wales remembering those killed by patriarchal violence. The latest protests, held outside police stations in Cardiff and Swansea, have been called for Mohamud, for Mouayed, for Siyanda, for Sarah, and also for Christopher Kapessa, Wenjing Xu and Shukri Abdi.
Protesters have faced repression under emergency Covid legislation but have refused to give in. When an organiser in Cardiff was fined, a fundraiser matched the cost in a matter of hours. When the initial vigils for Sarah Everard in Swansea, Cardiff and Newport were canceled due to police intimidation, unofficial protests immediately sprung in their place. The latest protests have naturally stood against the new policing bill which threatens the right to protest and the rights of traveler communities, with #Killthebill demonstrations also taking place in Bangor and Wrexham.
Branch members have been present on the streets, and we will continue to act in solidarity with these protests whilst affirming their autonomy. As a union the IWW has since its inception been a part of anti-racist struggles and has fought for freedom of assembly. We have incarcerated workers in our ranks and fight against the injustices of the prison industrial complex as part of the fight for better conditions for all workers. These protests in South Wales, like the Summer uprising in the US and the End SARS movement in Nigeria, offer inspiration not only in the struggle against white-supremacy but to the working class as a whole. We call on Fellow Workers to consider how to contribute concretely to these struggles and expand their scope to the workplace and our daily lives.
An Injury to One is an Injury to All!