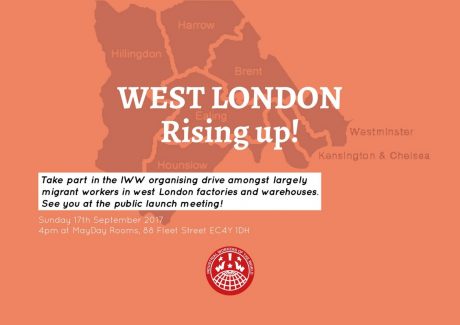 Dear comrades, comrogues and fellow workers,
These are interesting times. The establishment is shaken, it's time to dig deeper and to try out something new! The London IWW invites you to take part in an organising initiative amongst largely migrant workers in warehouses and processing plants in west London.
From September onwards we plan a six month organising drive in non-unionised companies, each employing 100 plus workers. Most of the workers are female and migrant workers, mainly from eastern Europe and the Asian subcontinent. Our organising effort will not only focus on the miserable wages and working conditions, but also on the particular problem of workers as tenants, migrants and women.
We will form teams of three, four people for each company, who will visit workers regularly and build relationships. We will have training sessions and discussions on how to approach workers and about the goals of the organising effort beforehand. Come to the first organising meeting!
We will hold a first meeting on SUNDAY 17TH SEPTEMBER 2017 AT 4PM, May Day Rooms, 88 Fleet Street, EC4Y 1D London, where we will present the organising strategy and introduce the companies we want to target. If you are interested, but cannot make it to the meeting we are happy to come to one of your group meetings to introduce our initiative. After this first meeting, we will invite people to a day school in west London where we can develop a step-by-step plan for the following months and form teams according to people's preferences.
Please feel free to contact us with questions and/or to forward this invitation to interested people.
In solidarity,
IWW London